Hot Stapler Plastic Repair Tools Trusted Partner in Plastic Repairs
    Are you tired of subpar plastic repair solutions that leave you frustrated and disappointed? Look no further than Solary, your ultimate partner in plastic repairs! With cutting-edge technology and a commitment to quality, Solary brings you a revolutionary tool that's set to redefine your repair experience.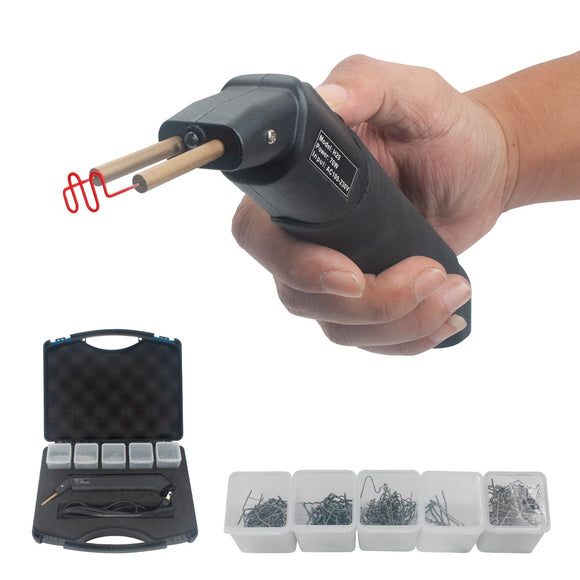 Solary's IGBT-Infused Plastic Stapler
    At Solary, we understand the importance of performance, longevity, and stability in your plastic repair tools. That's why we've equipped our Plastic Stapler with the latest IGBT (Insulated Gate Bipolar Transistor) technology, ensuring unrivaled performance and durability. Here's why Solary's Plastic Stapler stands out:
Stability and Longevity: Unlike some manufacturers who cut corners with transformer-based designs, Solary's Plastic Stapler boasts IGBT technology. This means the machine stays stable, regardless of voltage or current fluctuations, ensuring a longer lifespan and consistent performance.
Cost-Effective Solutions: We understand the value of your hard-earned money. Solary's Plastic Stapler allows you to extend the life of your plastic items without breaking the bank. Say goodbye to expensive replacements. 
Built for Comfort: Our ergonomic design ensures that using Solary's Plastic Stapler is a breeze. The lightweight build and comfortable grip make even the most extended repair jobs feel effortless.
Versatile Applications: 
Automotive Excellence: Repair cracked bumpers, headlights, and interior plastic components like a pro.
Electronics Precision: Mend broken plastic casings for devices and gadgets with precision and confidence.
Household Hero: Fix toys, garden equipment, kitchen appliances, and everyday household items with ease.
Industrial Performance: Ideal for manufacturing and production environments, Solary's Plastic Stapler is built to perform.
Simple Operation for Everyone
Operating our Plastic Stapler is a breeze. Just press and hold the power button, and you're ready to work your magic. Insert the staple into the copper tube, hold the button for about 2 seconds at room temperature, and the copper tube heats up to the ideal temperature, transferring heat to the staple. The staple turns red, indicating it's ready for repair. Place the staple on the damaged area, press for approximately 1-2 seconds, release the button, and maintain the pose (don't remove the staple from the machine). Let it cool naturally for 5 seconds, then gently separate the staple from the copper tube.
Repeat these simple steps until your repair is complete.
Diverse Staple Options for Versatility
Solary Plastic Stapler comes with a selection of four different staple shapes, each with 50 pieces, and a flattening staple. These five staple types are neatly organized in transparent plastic boxes. The four different staple shapes are designed to accommodate various angles and environments. Each staple is equipped with a pre-cut point, making it easy for users to break or trim them as needed. The flattening staple is perfect for smoothing the repaired surface, making it easier for subsequent painting and enhancing the connection's strength.
Both the staples and copper tubes are meticulously designed. The copper tube features a concave entrance to facilitate staple insertion. The dimensions and spacing of the two copper tubes are precisely calibrated to allow easy staple insertion without risking looseness or detachment.
To expand your range of usage, the copper tube features two different insertion angles, one horizontal and one vertical, ensuring you can tackle repairs from any angle. 
Safety and Convenience Features
Our Plastic Stapler is equipped with overheating protection. If the internal temperature reaches 75 degrees Celsius, the machine will automatically shut off. In a standard environment with a temperature of 20-25 degrees Celsius, it takes about 5 minutes to cool down and continue working.
We've also integrated a high-power lighting feature. When you press the power button, the light activates simultaneously. This lighting solution ensures you can perform repairs in low-light conditions or tight spaces without a hitch.
With Solary's Plastic Stapler, you have the power of innovation at your fingertips, making plastic repairs accessible to everyone, and delivering results that stand the test of time. 
Why Solary?
Trusted Excellence: Solary is synonymous with quality and reliability. You can trust our products to deliver outstanding results every time.
Exceptional Support: Our dedicated customer service team is always here to address your questions or concerns promptly.
Competitive Pricing: Solary offers a top-tier solution without the premium price tag.
Don't compromise on your plastic repairs. Elevate your repair game with Solary's Plastic Stapler. Say goodbye to flimsy solutions that let you down when you need them most. Say hello to a world of lasting, dependable plastic repairs with Solary.
Order Your Solary Plastic Stapler Today!
Experience the Solary difference for yourself. Order your Solary Plastic Stapler now and unlock the full potential of your plastic repairs. Join the Solary family and be part of a community that values quality, performance, and longevity.